A Special Place to Be: Competition Winner Adores 'High Tides'
Sarah Harris, the lucky winner of our Twitter and Facebook competition enjoyed a three-night stay at 'High Tides' with her family.
Sarah headed down to North Norfolk for a weekend break with her husband and two teenage children from their home in Cambridge.
"I've always wanted to stay in Blakeney, so I entered the competition without hesitation. It was very exciting when I won – I was on the phone to my best friend and received a tweet saying 'You've won a holiday'," she says.
"We decided to book the stay for Father's Day weekend after my daughter Ellie had finished her GCSEs. It was a nice celebration after all her hard work."
Surround Yourself with Incredible Sea Views
The Harris family were blown away by the incredible sea views at High Tides.
"The view was amazing. You walk into the living room and there's this huge window which looks out on to the quay. There's also another window to the side of it, so it's like this picturesque panorama.
"It's absolutely stunning, certainly the nicest view we've had compared to anywhere else we've been. I would just sit on the comfy window seat admiring the view for ages. The balcony really added the wow factor too." says Sarah.
Pictured above: Sarah and son Sam enjoying the window seat where you can enjoy breathtaking views at High Tides.
With everything on their doorstep, the family found High Tides an ideal coastal retreat.
"If you want to stay in Blakeney, you can't get a better location than High Tides. You've got the sea right on your doorstep and the views are just so pretty.
"We never really had to drive anywhere as everything we needed was within walking distance."
Be Inspired by Beautiful Blakeney
Sarah has stayed in Cromer in North Norfolk before and loves the peaceful atmosphere it offers.
"The North Norfolk coast is so relaxing and idyllic, I prefer it to the south coast. The north is just so unspoilt and beautiful, I'm surprised it's not more built-up and populated, but that's one of the great things about it.
"I'd love to move to Blakeney one day. We love Norfolk and don't tend to go abroad very often. Occasionally we'll go to France, but we're not big travellers and with having Norfolk just an hour away, we don't need to be!"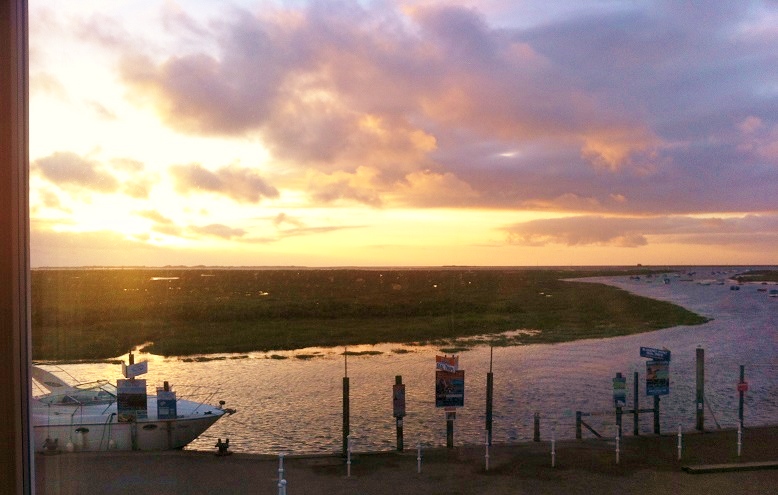 Pictured above: The view from High Tides cottage at sunset.
As a published novelist, the unique towns and villages around Norfolk have inspired Sarah to write her latest fictional story 'The Boy in the Wide Sky'.
"It's based on what I went through with my son Sam who's 13. A single mother takes her child out of school because he's struggling and goes to a fictional Norfolk village. A lot of it is about community life in Norfolk and how you can fit in when you're a bit different… It's currently with an agent, so we'll see what happens."
Explore Surrounding Towns like Holt
The family's mini-break allowed them to really relax, so trips weren't on their agenda. But they did enjoy coastal walks, leisurely lunches and a spot of shopping in Holt.
"It was nice to go on quiet strolls along the beach. We were quite happy exploring Blakeney beach, it's so beautiful and right outside the cottage so we didn't need to go any further afield.
"We explored the shops in Holt, which we absolutely loved. There's some lovely independent shops and cafes."
North Norfolk is the perfect place for food fanatics, so there was no need to think about cooking during their stay.
"On our first night we ate out at the Kings Arms and as Sunday was Father's Day, we had lunch at The Salthouse Dun Cow. Both places were brilliant with gorgeous food.
"We also had fish and chips in Holt from a place that was recommended in the welcome book – that was really tasty.
"There are lots of lovely delis and cafes, so you're really spoilt for choice," says Sarah.
Chill Out and Get Away from it All
Sarah describes Blakeney as a special place to be, unique compared to other British seaside destinations.
"It's a really unusual place. It's very quiet and peaceful – you haven't got a pier with loads of people gathered… It's just a sleepy place with a few little gift shops, some really fantastic places to eat and lots of stunning walks. It's the perfect place to chill out and get away from it all."
The Harris family loved their stay so much, they can't wait to go back and visit beautiful Blakeney again.
"I'd love to go back and spend more time in Blakeney and the surrounding areas. We could have easily filled a week with all the nice areas you can explore.
"When we go again I wouldn't want to stay anywhere other than High Tides, it was just perfect."
Book your stay at 'High Tides' today. This luxury property sleeps six and offers some of the best coastal views in Blakeney.